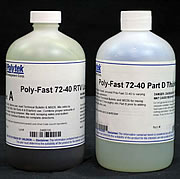 Poly-Fast 72-40
Poly-Fast 72-40 is a dense, medium hardness rubber used primarily for casting plaster, waxes, and in some cases cement. This product can be thickened with a liquid additive Part D to create brushed molds and can be softened with Part C to make rubbers softer than A-10.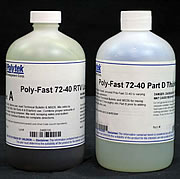 72-40
Mix Ratio: 10A to 100B
Color: Ivory
Shore A Hardness: 40
Viscosity: 4,400 cP
Pour Time: 30 min
20 in³ / lb
This product may degrade with age and should not be considered for molds where long shelf life is required.