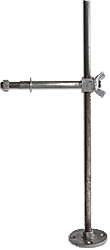 Backiron for Removable Armatures
This adjustable steel backiron can be used in conjunction with our Removable Figure Armatures or an armature of your own design. The backiron stands approximately 16" with a crossbar of 5 1/2" in width; its base has a 2 3/8" diameter. Note-the current backiron is larger and heavier than what was previously available.

Panavise Heavy Duty Base
Enginered to allow the base to support weights up to 75 lbs at 45°.

Accepts any 1" diameter shaft to a depth of 1.7".

Single knob controls head movement through three planes: 90° tilt, 360° turn & 360° rotation.

Square base 4.125" x 4.125" has four mounting holes (mounting screws not included).

Internal half ball can be reversed from positive serrated lock (high holding power) to smooth friction lock (low holding power). Height: 3.25" not including top mount.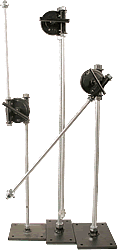 Adjustable Armature Stands
Stand is adjustable in all directions and rotates in a complete circle. Versatile enhancement to any armature system.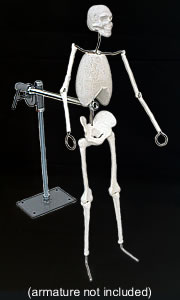 15", 18", and 24" stands have a 1/2" all thread rod attached to a 4" x 6" metal base and a 1/2" rotating all thread rod. The Heavy Duty 24" stand has a 3/4" all thread rod attached to a 6" x 6" metal base and a 1/2" rotating all thread rod.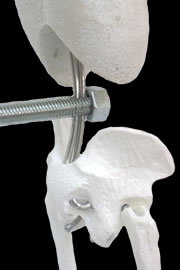 All of the adjustable armature stands are compatible with the TruForm individual armatures and the almaloy individual figure armatures.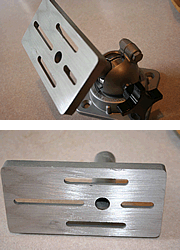 Panavise Heavy Duty Fixturing Head
A rugged Fixturing Head for heavy duty projects!
Four "universal" slots 0.29" (7.37mm) wide for attaching forms, parts, etc...
Flat Head is 3" x 6" (76.2mm x 152.4mm)
Shaft is 1" (25.4mm) in diameter and 3.25" (82.5mm) long. Shaft is drilled and tapped 1/4-20 (screw included) for permanently securing to base
Height (bottom of shaft to top of head): 4" (101.6mm)