Metal Oil
Sculpt Nouveau's Metal Oil is durable and specifically made for metal. The Metal Oil should be applied with a soft cloth, brush, or spray. It will dry hard in 3-12 hours. Apply two coats. Clear Guard or Metal Wax may be applied over the oil.
Metal Wax
Sculpt Nouveau's Metal Wax is for protecting patinas and metal finishes. The finest quality waxes have been blended into a nonabrasive formula specifically to protect patinas and metal finishes. These waxes contain UV inhibitors and hardeners making them incredibly durable and long lasting on all types of metal.

These metal waxes can be applied to hot or cold surfaces. However, they should not be applied to extremely hot surfaces.

When applying, smooth down any ridges or bumps. Stippling with a brush may be the preferred method of application so as to not create streaking on the surface. Try not to let the clear wax fill up in any recessed areas as it may turn opaque when dry. Build up in recessed areas may be desirable with the colored waxes.

Burnish the finish when the wax is dry (usually 1-2 hours). The colored waxes generally take longer to dry. If you are applying the wax to a hot surface, let the surface cool down completely, then buff. Use a lint-free cloth (such as a microfiber cloth) to buff. Do not wait too long as the wax will become too hard to burnish.
Clear Guard
Clear Guard is a crystal clear, durable, air drying lacquer that results in a hard, fast drying, and tarnish resistant film. It has excellent adhesion to bronze, brass, copper, and other metals as well as to patinas and rusted metal. Clear Guard is suitable for use with all types of application equipment. Once thinned, it may be used with sprayers.
Because of its unique chemistry, orange peel is virtually non-existent. Clear Guard is UV stable and highly resistant to weather, water, and chemical damage. It also resists marring and perspiration better than most solvent lacquers.
Clear Guard is made in both normal and environmentally friendly formulas. It is sold in 12oz. spray cans or 8oz., 32oz., 1 gal., and 5 gal. containers. Clear Guard is also available in a pre-thinned, ready to spray formula in 32oz., 1 gal., and 5 gal. containers.
All Clear Guard products are shipped UPS Ground only.
Shine: Matte or Satin
Class: Normal or Environmentally Friendly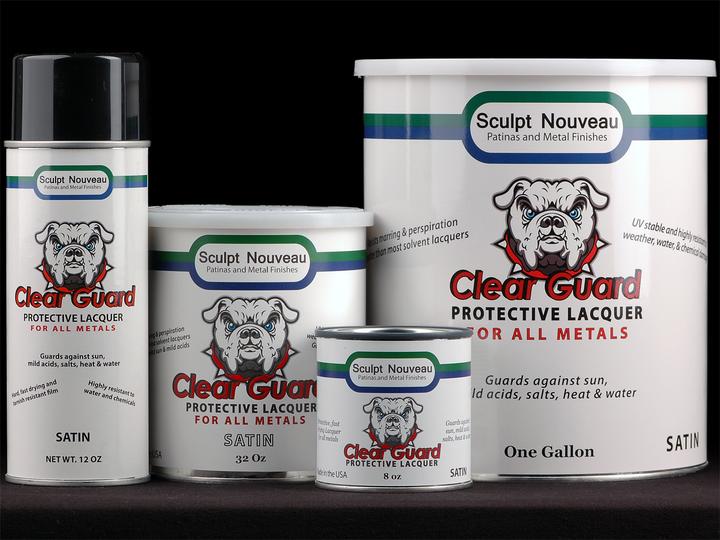 Ever-Clear
Sculpt Nouveau Ever-Clear acrylic urethane is a two part clear, durable, low VOC, air drying coating. It is formulated for use on bronze, brass, copper, steel, wood, terracotta, ceramics, and concrete. Sculpt Nouveau Ever-Clear provides unusual under-film tarnish protection as well as superior resistance to UV light and salt air environments.
Sculpt Nouveau Ever-Clear may be thinned up to 20% with Xylene or Sculpt Nouveau Solvent Thinner for use in quality sprayers.
Sculpt Nouveau Ever-Clear is sold in 16oz., 32oz., and 1 gal. sizes. It is available in high gloss, satin, and matte formulas.
Shipped UPS Ground Only.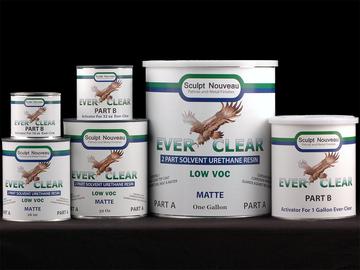 G.J. Nikolas 11565 Lacquer
For exterior uses that demand moisture, stain, and wear resistance. 11565 Lacquer also offers UV protection. For use with brass, copper, and bronze. Product is used with G.J. Nikolas Lacquer Dyes for beautiful translucent colors. Available in 1 and 5 gallon containers. 5 gallon container only available for in store pickup.
G.J. Nikolas 8321 Lacquer
For exterior uses that demand moisture, stain, and wear resistance. 8321 Lacquer offers UV protection. Specified for use with brass, copper, and bronze. Aerosol can contains no fluorocarbon propellants.
G.J. Nikolas Lacquer Dye
Concentrated lacquer dye that is available in a variety of colors:red, lemon yellow, canary yellow, gold, black, brown, green, and blue. Apply to pieces to conveniently color and seal them simultaneously. Two ounces of dye should be added to one gallon of lacquer. Eyedroppers are available to control the amount of lacquer dye.
Permalac Lacquer
Permalac is a clear air-dry lacquer that is designed for exterior protection of surfaces of steel, aluminum, copper, silver and bronze at higher temperatures. Permalac contains inhibitors for UV and corrosion protection. It has been found that even a blow torch could not discolor a brass fitting protected by Permalac! In a recent field test, Permalac outperformed 6 other coatings including Syncrylac in protecting steel surfaces. It should give satisfactory exterior protection for at least ten years under normal conditions. Considerably longer life is expected. For brush application, it is ready to use. For spray application, thinner must be used. Permalac air dries to the touch in less than 5 minutes; may be force dried faster at 250°F. Air dries hard in an hour or so, depending on the film thickness, temperature, and other conditions.
A remarkable interior and exterior coating which is air-dried and provides a crystal clear, highly durable finish. Multiple coats of satin Permalac will create a glossy finish. Originally developed as a protective finish for copper, brass and bronze, Permalac has also been used successfully on steel, wood, terracotta and concrete. It is weatherproof and resistant to both ultraviolet light and salt air atmospheres.
Coverage Area
12 oz ~ 30 square ft.
32 oz ~ 100 square ft.
1 gal. ~ 400 square ft.
5 gal. ~ 2000 square ft.
Shipped UPS Ground Only.
Paste Wax
Restores, enriches, and protects a wide variety of materials. Available in clear. Often used hot on bronze for sealing.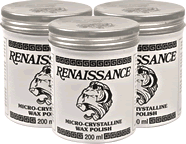 Renaissance Wax
Wax Polish - Museum quality wax contains no acids. It is a highly protective wax and moisture resistant. Good for metal, stone, wood, and paper. Apply in thin layers and polish for a beautiful luster.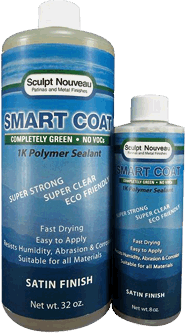 Smart Coat
Smart Coat 1K is an easy to use urethane/resin sealant for all metal surfaces. Once dry, it forms a durable top coat that resists UV damage, humidity, abrasion, and corrosion. Smart Coat 1K has zero VOC, no odor, and is non-hazardous. It may be thinned with water. Smart Coat 1K is terrific over polished metal, rust, and other patina finishes. It does not tend to change the color of a patina unlike solvent clear coats.

Smart Coat 1K is available in 8oz., 32oz., 1 gal., and 5 gal. containers in both satin and flat finishes. It is best applied using a spray bottle. One gallon typically covers 250 square feet.

Solvent Thinner by Sculpt Nouveau
Sculpt Nouveau Solvent Thinner has no VOC's and is a very effective replacement for Xylene. It may be used to thin all solvent products, including Clear Guard, Ever-Clear, and Permalac. For best results when spraying a solvent lacquer, thin with up to 20% Sculpt Nouveau Solvent Thinner.