Tripoli Buffing Compound
Water based buffing and polishing compound. Available in one pound blocks. Great for the cold cast materials. Use with a buffing wheel to get beautiful high polish metal finish.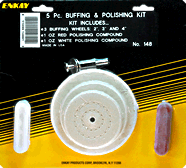 4 Piece Buffing & Polishing Kit
Kit Includes: 2 Buffing Wheels: 2", 3" and 4", 1 oz Red Polishing Compound, 1 oz White Polishing Compound
3M Scotch Brite Pads
Excellent product for hand finishing and cleaning wood, metals, and composites.
Available in:
#96 Green - Coarse
#86 Green - Thick and Coarse
Red - Medium
Gray - Fine
White - Extra Fine
Acid Brushes
1/2" wide disposable brushes with a tin handle. Made with horsehair bristles.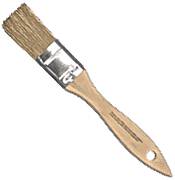 Chip Brushes
Wooden handle chip brushes. 100% China Bristle available in various widths.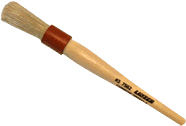 Linzer Brushes
Type 7562. Excellent for the application of patinas. All have natural bristles.
Metallic Pigments
Provides a faux metal finish when combined with Forton MG or polyurethane resins. Will not take patinas. Available in Rich Pale Gold, Brilliant Copper, Antique Brass, Statuary Bronze, Brilliant Aluminum, Silverstone, and Antique Silver.
Oxide Powders by the Ounce
Dry powder tints for use in cement, plaster, wax, and various casting materials.

Oxide Powders by the Pound
Dry powder tints for use in cement, plaster, wax, and various casting materials.

Verdigris Green Patina Chemicals
Mixture of cupric chloride (100 g), ammonium chloride (25 g), and water creates an aged greenish/blue look when applied to copper or bronze. The solution is to be applied cold. According to the ratio of chemicals, solution can be made to look more blue or green. Makes a 32 ounce solution.