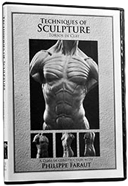 Techniques of Sculpture: Torsos in Clay with Phillipe Faraut
In this tutorial Philippe Faraut demonstrates two different approaches for modeling the human torso in water-based clay. He begins the first with the construction of the bone structure for a male torso on which he then applies each muscle individually. This approach is based on the use of precise measurements which helps achieve a solid structure while eliminating the risk of common mistakes.The second part of the program focuses on the female torso with a more rapid method of construction relying on the use of planes. Each torso exercise is taken to completion including demonstrations on finishing techniques.

These exercises were developed to emphasize the importance of bony landmarks, the relationship between the skull, ribcage and pelvis as well as the general placement of muscles. Run time: 89 minutes. English and French language tracks.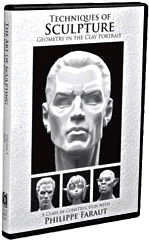 Techniques of Sculpture: Geometry in the Clay Portrait
A Class in Construction with Philippe Faraut
This program demonstrates a unique approach to modeling in clay by combining interdisciplinary concepts of geometry and sculpture. Philippe Faraut shows how building a geometric base aids in modeling both realistic and fantasy heads.
This DVD, originally designed for secondary educators, has proven to be invaluable for artists of all levels to acquire speed, precision, and control of the medium of clay. The concept is that by offering an approach based on geometric shapes, the instructor is better able to control the progression of sculpture, particularly the size. This philosophy of teaching how to master the mechanics does not prevent the creative process, but in actuality allows the student to rapidly achieve a solid base and self-confidence which promote creativity. Running Time: 83 Minutes
Cross disciplinary Subject Matter Combining Geometry & Sculpture
Designed for the Classroom Setting
Program Segment Run Times Provided
English and French Language Tracks
English and Spanish Subtitles
Includes Lesson Booklet in English, French, and Spanish
Hollowing and Firing Techniques Explained
Bonus Video Short: "Metamorphosis"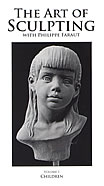 The Art of Sculpting with Philippe Faraut
Volume 1: Children
In this first volume of his instructional series, Philippe shares his step-by-step method of construction, as well as a guide to catch and correct common mistakes, while demonstrating in his favorite medium: wet clay. Filmed on location in Honeoye, NY at his studio, this 89 minute tape offers instruction easily followed by a beginner and complete enough to keep the interest of the most experienced sculptor. Running time: 89 minutes, Format: DVD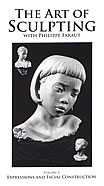 The Art of Sculpting with Philippe Faraut
Volume 2: Expressions and Facial Construction
In this volume which covers individual features of different expressions, Philippe demonstrates rapid exercises in water-based clay that are useful for developing sculpting skills, including how to recognize volumes specific to different ages, genders, and ethnic groups. This 110 minute tape also includes a comprehensive demonstration on hollowing and firing techniques. Running time: 110 minutes, Format: DVD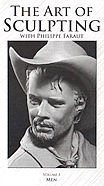 The Art of Sculpting with Philippe Faraut
Volume 3: Men
In this third installment of his instructional series, Philippe Faraut focuses on modeling the heads of men. His demonstrations include basic structure comparisons of different ethnicity, techniques for modifying expressions, the mechanics of the aging process and facial weight distribution for heavy-set men. In addition, he completes one bust of a man including hair and clothing. This 111-minute production was created for the advanced artist. Running time: 111 minutes, Format: DVD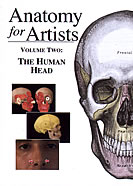 Anatomy for Artists - The Human Head
Anatomy for Artists: The Human Head is designed to assist the artist and art student in rendering the human head. This video addresses those topics critical in understanding the anatomy of the head including:
facial expressions
bones of the cranium and face
canons of proportion of the head

surface forms that define the face
muscles of the head and their functions
characteristics that differentiate gender and age