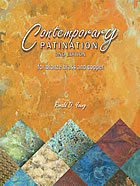 Contemporary Patination
2nd Edition
for bronze brass and copper
Contemporary Patination, 2nd edition, is a thorough recipe book of hot and cold patinas for bronze, brass and copper.

Instruction and supply lists are provided for buried, fumed, paste, wrapped, multi-layered, hot and cold patinas. Nearly every patina discussed will have an accompanying photograph for visual reference. There are also instructions to preserve, protect and maintain your artwork and trouble-shooting charts for applying patinas and clear top coats. This is a valuable book for sculptors, architects, metal artists, jewelers, conservators, hobbyists and more. 226 Pages, Hardcover, 2nd Edition, 2015, ISBN 978-0-9603744-7-2
Patinas for Silicone Bronze
Patinas for Silicone Bronze is a wonderful resource to learn contemporary hot patina techniques. For the artist, it is an excellent reference for patina color. For the professional, it contains valuable chemical combinations and application techniques. Written by Patrick Kipper, 225 pages. Price is 50% off.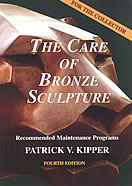 The Care of Bronze Sculpture 4th Edition
Step by step instructions have been given in order to guide the collector through the various steps of maintaining bronze surfaces and their patinas for indoor as well as outdoor environments, in order that these surfaces and their existing patinas may be protected and enjoyed for many years. Written by Patrick Kipper, 96 pages.